New Intervention issue online (21-1)
January - June 2023
Intervention just launched its newest issue, packed with great insights from the field of humanitarian affairs and MHPSS.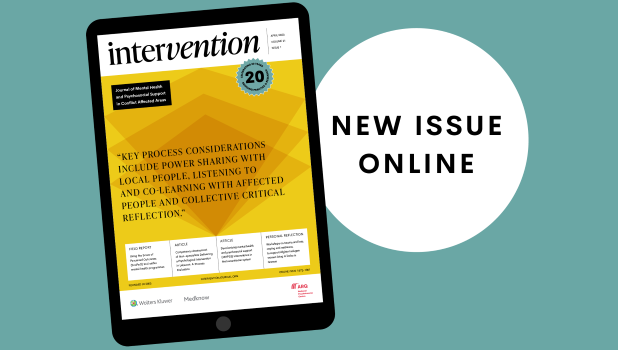 Have you ever wondered about inequalities in funding local versus national agencies? Or how the co-developer of the IASC Guidelines reflects back on its process after 15 years? Or would you like to learn from joint reflections on workshops for Afghani refugee women? 

Our new issue brings you a wide variety of field reports, articles and personal reflections, with MHPSS research and lessons learned from all over the globe. Intervention is grateful to continuously collaborate with researchers and field workers worldwide to map ongoing trends and insights. Through this, we hope to enhance the reach of timely and relevant knowledge for practitioners in complex settings affected by disaster or conflict.
 
Publicatiedatum
Publication date
27 04 2023