An eye for complexity: EMDR versus stabilisation in traumatised refugees
Thesis Jackie June ter Heide (2015)
Due to severe strain from stressors both before and after migration, refugees are at significant risk of developing PTSD. How can they be treated safely and effectively? In the PhD thesis An eye for complexity: EMDR versus stabilisation in traumatised refugees, Jackie June ter Heide demonstrates that EMDR can be used safely and is moderately effective with refugees.
The PhD research sought to answer three central questions:  
What is the safety and effectiveness of EMDR compared with that of stabilisation in refugees with PTSD?  
What is the applicability of the complex-PTSD construct to the problem of traumatised refugees?  
Is it safe and effective to treat refugees and asylum seekers with trauma-focused therapy?  
Based on randomised trials in refugees with PTSD, Jackie June ter Heide's thesis makes a case for avoiding prolonged stabilisation and the earlier application of trauma-focused therapy more quickly for refugees, such as narrative exposure therapy (NET), culturally-appropriate cognitive behavioural therapy, or EMDR.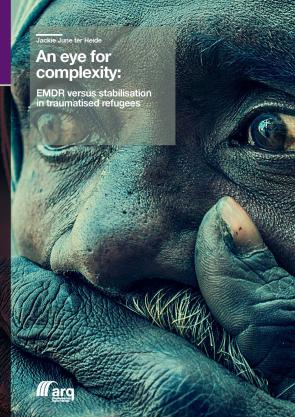 Author
Author(s)
Jackie June ter Heide
Publisher
Publisher
ARQ National Psychotrauma Centre
Publication date
Publication date
Publication type
Publication type
Thesis