Toward an integrated understanding of traumatic grief
Thesis Manik Djelantik (2020)
The death of a loved one is often a distressing and life-changing experience. Research on psychological symptoms in bereaved families usually focuses on one of three psychological disorders: persistent complex grief disorder, post-traumatic stress disorder (PTSD) and depression. In this thesis, Manik Djelantik discusses the relationship between the symptoms of these three psychological disorders in bereaved families following traumatic and non-traumatic losses. 
The thesis reveals that almost half (49%) of bereaved families develop persistent complex grief disorder after traumatic losses. This is 5 times higher than for bereaved families after non-traumatic losses. This population is also more likely to experience a combination of persistent complex grief and post-traumatic stress. 65% of patients presenting to a psychotrauma clinic who have experienced a death suffer from persistent complex grief in addition to post-traumatic stress. Treatment focusing on grief as well as post-traumatic stress is effective. Even in a refugee population with multiple post-migration stressors.  
Interestingly, among Balinese survivors of road traffic fatalities, persistent complex grief disorder PTSD, and depressive disorder appear to be surprisingly infrequent, compared with other countries. This suggests that cultural, social, and religious factors may influence the development of psychopathology. 
Focus on symptoms in the case of complex issues 
In this thesis, Djelantik has shown that in the case of complex issues, such as co-morbidity of psychological symptoms in bereaved families, it may be more useful to focus on symptoms rather than on the psychological disorders as a whole. Professionals and researchers should pay more attention to persistent complex grief symptoms when working with people who have experienced trauma and loss.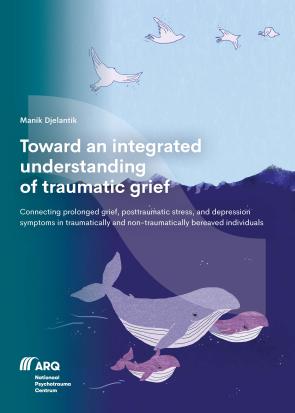 Author
Author(s)
Manik Djelantik
Publisher
Publisher
ARQ National Psychotrauma Centre
Publication date
Publication date
Publication type
Publication type
Thesis
ISBN
ISBN
978-94-6402-071-7